Welcome to Groper Creek Caravan Park
IMPORTANT NOTICE:
Groper Creek Caravan Park is now under New Management. All bookings made prior to October 2019 have not been adequately recorded and therefore are not confirmed. If you have made a booking prior to this date, please call the office on 07 4782 0186 or email [email protected] to confirm your booking. Deposits for 2020 bookings are now due and we look forward to your visit.
Groper Creek is located 14.2km south of the sugar cane district of Home Hill in North Queensland. Following Heath Creek being placed under council control in 1921 a petition by local residents convinced council to secure eight hectares beside Groper Creek from Samuel and Rose Searle in exchange for a similar parcel of land of the Heath Creek reserve adjoining the old wharf. Changing water flows made the old site of little use. Groper Creek was just a tidal inlet until the floods of 1918 made it one of the mouths of the Burdekin River, one of the largest river systems in Queensland.
Groper Creek became popular for fishing expeditions to Beachmount and Cape Upstart. Today the small fishing community's population is made up of around 50 permanent residents, mostly being retirees. In holiday seasons the population balloons to over 300 with visitors flocking to the caravan park located on the bank of Groper Creek. Many of the visitors come to take advantage of local fishing and crabbing.
Groper Creek Map (Click to view larger version)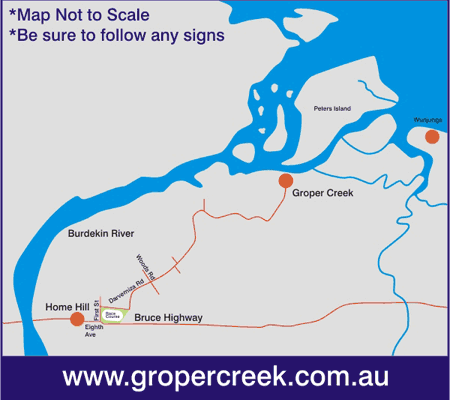 Groper Creek Park Layout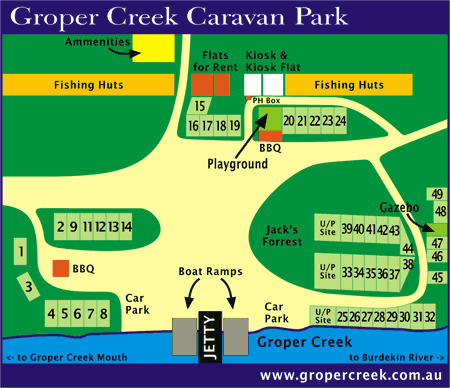 We hope to see you all soon! Follow Groper Creek Caravan Park or our Groper Creek Community pages on Facebook to keep up with the latest news and please feel free to tag us on your social media when visiting.
Groper Creek Caravan Park.
Groper Creek is a large estuary system with plenty of great fishing holes.
Groper Creek has an abundance of wildlife, especially many breeds of birds.
Groper Creek is great fishing all year round with popular sportsfish including Barramundi, Mangrove Jack, Salmon, Flathead and more!
Mud Crabs are always around and a good feed is not hard to come by.