Welcome to Groper Creek Caravan Park
IMPORTANT NOTICE:
ALL long-term bookings MUST BE confirmed and deposits paid prior to 1 February. Site bookings are subject to change.
Groper Creek Caravan Park is welcoming those who have been permitted to travel within Queensland and under current COVID-19 guidelines. Please DO NOT TRAVEL if you are feeling unwell and we ask that you abide by our Guest Code of Conduct whilst staying at our park. All Enquiries, ph (07) 4782 0186 or email [email protected] during office hours.
Safe Travels - Managers Dan & Jeanette Garvey
Groper Creek is located 14.2km south of the sugar cane district of Home Hill in North Queensland. Following Heath Creek being placed under council control in 1921 a petition by local residents convinced council to secure eight hectares beside Groper Creek from Samuel and Rose Searle in exchange for a similar parcel of land of the Heath Creek reserve adjoining the old wharf. Changing water flows made the old site of little use. Groper Creek was just a tidal inlet until the floods of 1918 made it one of the mouths of the Burdekin River, one of the largest river systems in Queensland.
Groper Creek became popular for fishing expeditions to Beachmount and Cape Upstart. Today the small fishing community's population is made up of around 60 permanent residents, mostly being retirees. In holiday seasons the population balloons to over 300 with visitors flocking to the caravan park located on the bank of Groper Creek. Many of the visitors come to take advantage of local fishing and crabbing.
Groper Creek Map (Click to view larger version)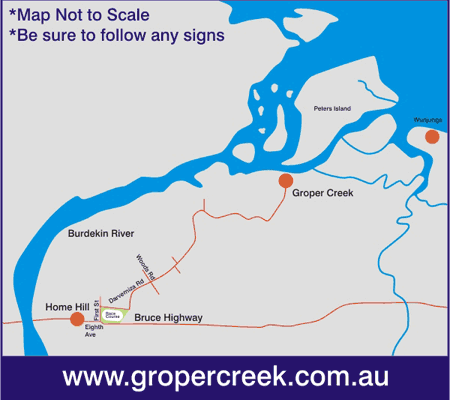 Groper Creek Park Layout
Please note: all our sites are powered with unpowered camping available near Site 49. The Home Hill Boat Club has 2 flats for holiday rental adjacent to the amenities block. All front-row fishing huts are privately owned. The park also has an on-site dump point.